£10 Billion Losses Being Overlooked
Government, industry and police are all overlooking the millions of online frauds that victims suffer, and the crime must be made a national strategic priority, according to a report published today by the UK's National Audit Office (NAO). You can listen to a podcast from the NAO and read the full report by clicking here.
These findings will come as no surprise to individual victims who lose and estimated £10 billion pounds to online fraud and counter-fraud specialists who have been calling for more, joined-up action to tackle fraud since the government's Fraud Review which was published over a decade ago.
The NAO report says more must be done to make email (the transmission method for online fraud, malicious virus attacks and data thefts) more secure. The NFIB and National Crime Agency invest considerable resources into recording email related fraud and requesting the closure of fraudulent websites and citizens rightly ask why industry isn't doing more to stop fraudsters creating bogus websites and emails, long before victims fall prey.
Experts have challenged the tech industry to deploy Artificial Intelligence and Machine Learning software such as Microsoft's content moderation tools to help citizens to spot potential fraud in the content of emails and digital messages.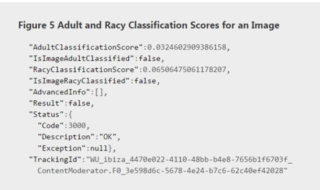 An extract of code from Microsoft's Content Moderator
Algorithms developed in partnership with Microsoft, the Internet Watch Foundation, and the police have been deployed for many years to detect unlawful content and images shared by paedophiles.
Considering the enormous losses being suffered by victims of online fraud, there is clearly a pressing need to apply software to protect citizens from falling for online fraud. One suggestion is to apply filters to text in email and digital messages that alert the reader to words, phrases and email addresses that frequently appear in say, romance and investment frauds and cyber-attacks. The alerts would caution the user against opening links and provide fraud prevention advice, such as the quick, free checks one can carry out on people and companies.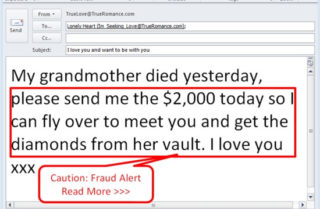 Priorities and Coordination
The NAO report also says there is a need for more coordination and that the Government's Joint Fraud Task Force is too narrowly focused on the banking industry. The NAO recommends that membership of the Task Force should be expanded to include representation from other industries affected by online fraud such as the retail sector and the group should publish and share more information.
The Fraud Advisory Panel charity, a trusted, independent voice of the counter-fraud community has frequently called for fraud to be a higher priority across sectors. In February 2017, Panel the wrote to the police and Home Office about the guidance issued to police to assist them in prioritising fraud investigations. The Panel called for obsolete, confusing government guidance issued to police to be reviewed, updated and reissued to local police forces and put in the public domain so that they can be seen by everyone.
In an era where UK Government debt continues to grow and Ministers face public pressure to ease austerity and invest more into public services, it will be interesting to see what will be done to stem the flow of money to fraudsters.