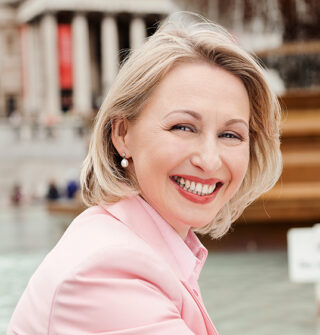 Jurga Zilinskiene MBE
CEO, Founder and Coder
LinkedIn
Jurga Zilinskiene is the Founder and CEO of Guildhawk. She was named among 8 women who made history in the technology world. In 2019, she was honoured by Queen Elizabeth with the MBE for International Trade. Her Majesty also honoured Guildhawk with the Queen's Award for International Trade.
As an accomplished coder, Jurga is passionate about introducing new AI solutions to improve lives and protect our planet. She established a JV with Gammon Construction HK to create new technology to improve safety on construction sites. In 2023, Jurga launched Evernoon Technologies in Hong Kong.
Beyond technology, she is passionate about helping women and young people. Sheffield Hallam University formed a partnership with Guildhawk and appointed Jurga as entrepreneur in residence to inspire the next generation of coders and entrepreneurs.
To support young musicians in the Chinese Year of the Water Rabbit 2023, Jurga, her husband David and their bandleader friend Alex Mendham and his Orchestra are releasing a magical album of 1920s songs. These are translated into Chinese for the first time.
Jurga loves to write poetry and dance. At school, she was a member of a Lithuanian Dance group that performed in national competitions. Beyond her passionate for new technology, she adores the British Royal Family, 1920s jazz and tweed.
Learn more about Jurga here on Wikipedia.
Watch this BBC television interview with Jurga explaining how Guildhawk recruited the world's first emoji translator. Click here.