UK-China Business Forum: Sustainable Trade and Investment in the Digital Age
Creating sustainable trade and investment in the digital age is the theme of this years UK-China Business Forum to be held in London. Dame Caroline Wilson DCMG, British Ambassador to China will address the forum. She will give her insight into UK's third largest trading partner. Jurga Zilinskiene MBE, will join the line-up senior leaders from business, academia and government. They will discuss the prospects for trade with China, revitalising UK exports, and stimulating regional investment opportunities.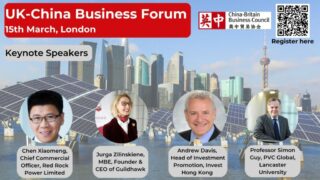 ---
Entering the Hong Kong Market
Jurga will share her experience of entering the Hong Kong market during the pandemic. This was done virtually and resulted in a joint venture with Gammon Construction (HK). Together they will create new AI-powered construction technologies to make smart cities of the future safer. With help from the UK Department for International Trade (DiT) and InvestHK, Jurga has incorporated a new technology company in Hong Kong.
Learn more about the help DiT gave Guildhawk in this VIDEO.
Forum Details
The forum is being hosted by the China-Britain Business Council (CBBC), and will be held 10 Union Street, London on 15 March 2023 from 09:00 – 18:00 (UK time)
Click here to REGISTER
Key Topics
Key topics for the forum are:
China-UK Relations and Trade Opportunities in the post-Covid Era;
The Climate Emergency and UK-China Net Zero Partnerships;
Seizing New Opportunities in The Greater Bay Area (GBA);
British Brands and China's New Generation of Sustainable Consumers;
UK-China Education Partnerships: Sustainability and Diversity;
Tech for Global Good: UK-China Collaboration in Science and Technology;
UK-China Partnerships in Green Finance and Sustainable Investment.
Please click here for more information on session content and themes.